Dear ultra runner
In 2023 ALOT – Albertslund Løb og Triathlon offers 6 hours ultra run will be on Saturday, October 28 at 10:00 a.m.
This year it will be possible to run the following : 6 hour run – as an individual run or as a relay team, Marathon, 3 hour run and 1 hour run – where all the hour-runs will end at the same time.
To sign up please click here
Route:
The run will be held around the beautiful Vallensbæk mose near Albertslund.
Distance: 2221 m per. round. The route is DAF measured.
The route is clearly marked and there will be guides / helpers on the route to ensure you a good and smooth run.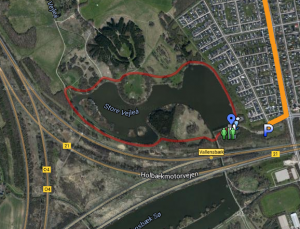 The card is also available in a version with zoom options:
https://www.google.com/maps/d/viewer?iwloc=0004846c89bb3376c3dfc&msa=0&mid=zTshRuh_BeQc.kYENcpPhmxww
Start number pickup
Start numbers can be picked up at the race site from two hours before race start to 30 min. before race start on race day.
Number Extradition is clearly indicated but please be there early!
Timing
Chip timing is inside the start numbers. Therefore they must not be bent. Start numbers must be worn visibly at the front of the runners throughout the race.
Relay team runs with a chip in a baton. Baton must be worn in the hands and may be handed over to the next runner only in the transition zone.
Depot /Aid stations
There is a depot for each round of app. 2 km. There will be a wide selection of refreshments, inter alia, water, energy drink, salt sticks, candy and fruit.
Toilets will be available in the depot area.
Self-Catering
It is possible to provide self-catering accommodation in the depot area. You place it yourself before starting.
Arriving by car:

From Highway 21 selected exit 3. Turn north on Vallensbaek Torvevej and left onto Vallensbækvej. Continue straight onto Rendsagervej and turn left toward Vallensbaek Mose.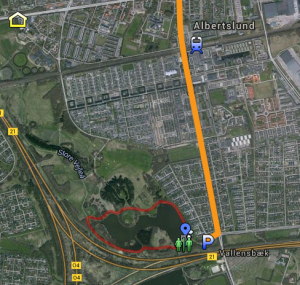 Arrival by public transport:
Get off line B towards Taastrup at Albertslund station and proceed on foot (about 2.1 km, about 32 min.) To the south of Alberslundvej to Rendsagervej (on the right).

The race's website
http://www.cph-ultra.dk/
Facebook:
https://www.facebook.com/CPH-ULTRA-RUN-1572661226354279/?fref=ts
We are looking forward to seeing you!
Thanks,